Your Complete School Package Includes:
First Response Kit:
Red-Includes items typically needed in a cardiac arrest event. The nylon, zippered pouch contains (1) pair of nitrile gloves, a pocket CPR mask, scissors, razor, and (2) towelettes.
CPR Uni-Padz III:
ZOLL CPR Uni-Padz have an industry-leading shelf life of five years and can be used on both adult and pediatric patients, so there is no need to maintain two separate sets of pads.
Zoll Lithium Battery:
In stand-by mode, the ZOLL AED 3 disposable lithium manganese dioxide battery has an installed life of up to five years.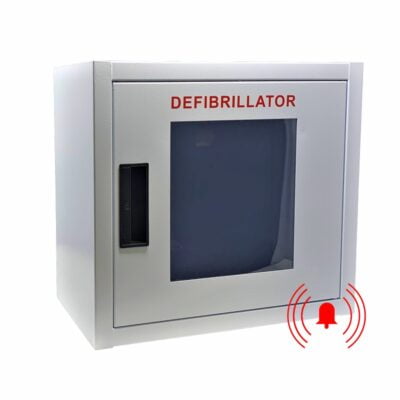 Alarmed Cabinet:
Basic large defibrillator wall cabinet with window and alarm; measures 16″L x 14 5/8″H x 8 3/8″W.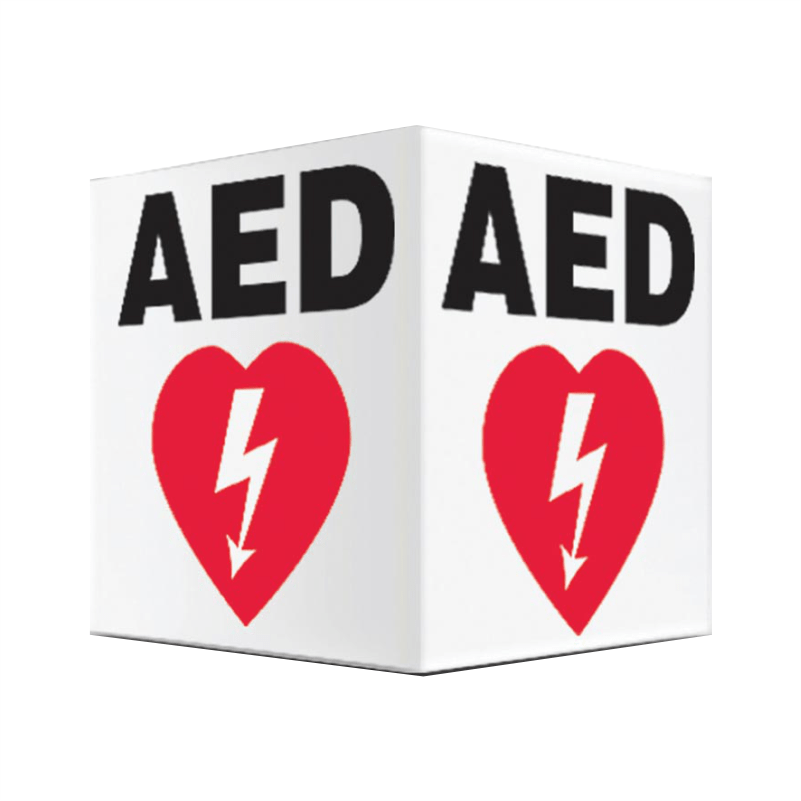 3D Sign:
Transforming wall sign that can be used in three different configurations (flat, corner, triangular). Each panel measures 6 1/8″ wide by 9″ high. Total measurements at 14 7/8″ wide by 9″ high.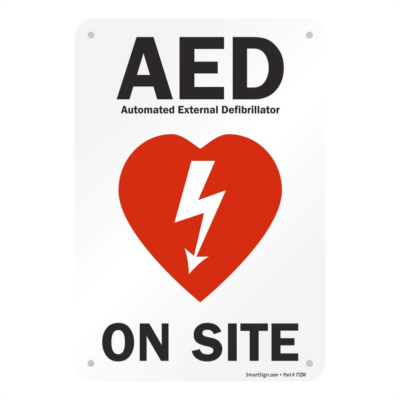 AED "Equipped Facility" Decal Sticker:
Put the sticker on the window of the cabinet for visible awareness of the AED.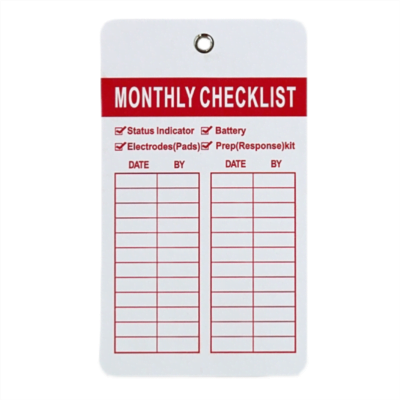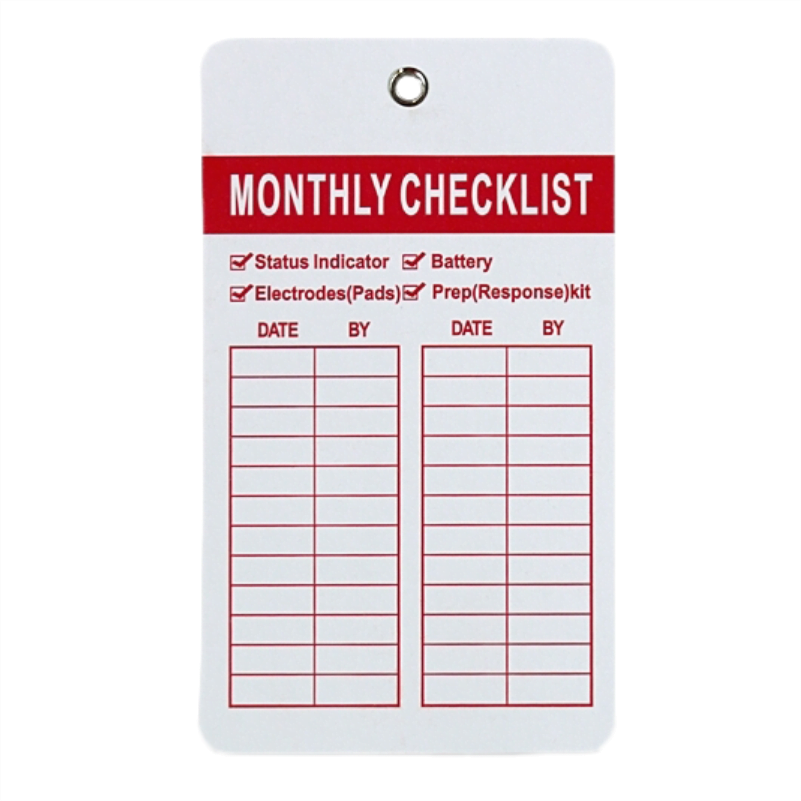 CalMed Inspection tag:
AED Inspection Documentation Tag. Check the AED monthly to ensure the battery and pads are in-date.
Free shipping:
calmedequipment.com offers free UPS Ground shipping to the contiguous United States on all in-stock orders $99 and over.
Why AEDs are necessary for schools:
Schools are an important place where AEDs should be available, uncertain Sudden Cardiac Arrest (SCA) can occur at any place to anyone where people spend time and are present including teachers, staff, and students.
Every minute surge in the placement of AEDs in schools:
The presence of AEDs on site creates the major difference between life and death and from collapse to defibrillation as the American heart association (AHA) said that after 12 minutes of SCA (sudden cardiac arrest), the chances of survival are hardly 2 percent.
The survival rate of students substantially increased in presence of AEDs: The recent studies of the American college of cardiology show that the survival rate for students who suffer from sudden cardiac arrest (SCA) in schools is 70% as compared with an 8% survival rate in school-age children.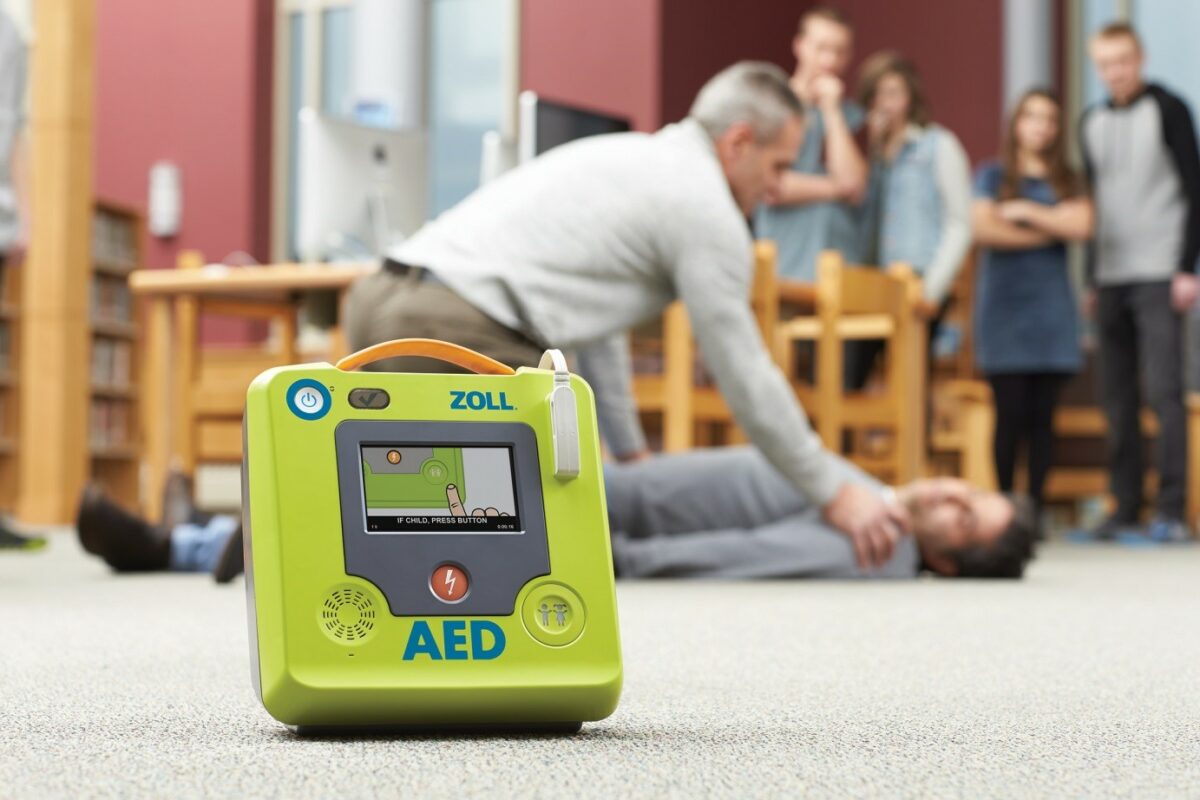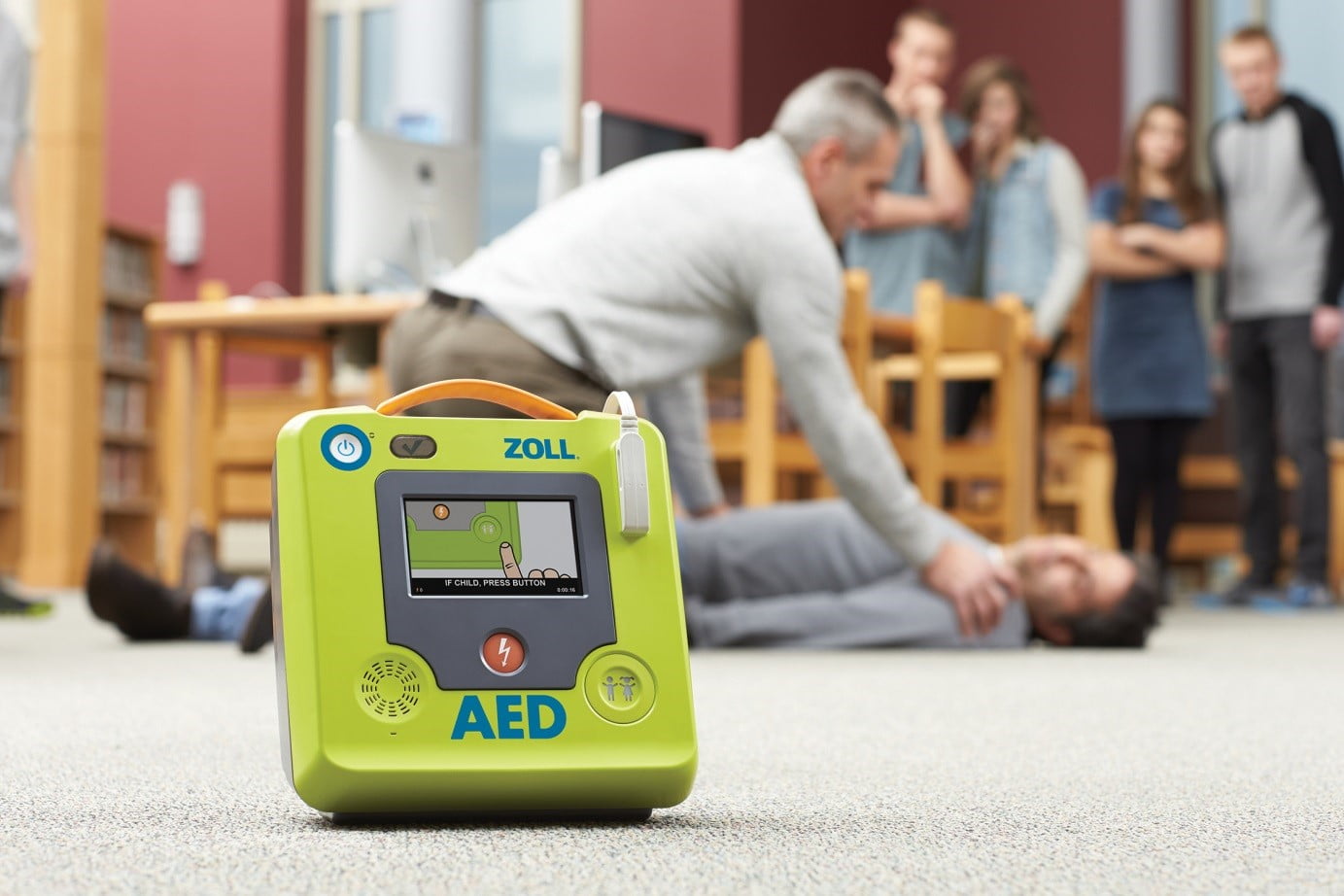 Innovative design and enhanced features make the Zoll AED 3 ready and smart
  Enhanced features make it always ready:
Wi-Fi connection
Long-life consumables
CPR-UNI Padz
Innovative features made it smart
Smart battery
Enhanced Real CPR Help
Touch screen display
Integrated pediatric rescue
Is everyone ready to help in case of sudden cardiac arrest (SCA)?
In case of sudden cardiac arrest at any place, we can't just sit and call 911 and wait for help when we have only a few minutes to act to prevent death. It is necessary to remain everyone ready to help the sufferer. To keep everyone ready is possible with the presence of Zoll AED 3 in place. California Medical Equipment has solved this problem by offering the best School package in USA.
It all happens in seconds, a person falls, and time does not stop which reduces the chances of survival of patients. The substantive step is to provide immediate lifesaving CPR with AED and Zoll AED 3 to make CPR easier and informative with visual and audible feedback to the rescuer on CPR quality.
Zoll AED 3 is the 5-star winner product:
Zoll AED 3 is the 5-star winner product of the defibrillator market by the world of safety and health award 2020. Zoll AED 3's development and ability to improve workplace protection are the primary features that make the product the best in its field and make the product recognizable in the world of safety and health Awards 2020.
Why ZOLL AED 3 is the Finest Choice for Schools?
Zoll AED 3 package includes all the key necessities that a school always requires to prepare for a sudden cardiac arrest. Most importantly, some of the advanced shifts from the pediatric pads to buttons ( CPR Uni-Pads), rapid shock analysis, and enhanced CPR help make a heart-safe environment for all and improve the efficiency of AED with intuitive and innovative changes. Some of the features that make the Zoll AED 3 the best device package for children and adults in school are:
CPR Uni-pads® provides a single solution for both adults and children in schools: Rescuers no need to change the pediatric keys. A pediatric button alters the device into child mode by lowering the joule output of the device. Zoll AED 3 universal design saves the time of rescuers and saves the life of SCA patients as the same design work for both adults and children.
Expeditious shock analysis: Zoll AED 3 can give the shock in minimum time (in 5 Seconds) if needed. The pause time can be minimized according to the situation and CPR to save a life can be performed with better CPR quality. It will automatically enhance the outcome for the survival of SCA patients.
Amplified CPR technology: Zoll AED 3 sets out real-time visual and audible feedback on the rate and depth of chest compressions instantly. This technology makes the device the best and high-quality CPR because of these advancements:
Full-color display with realistic rescue images
A CPR cycle timer
A large color bar gauge that shows CPR compression depth.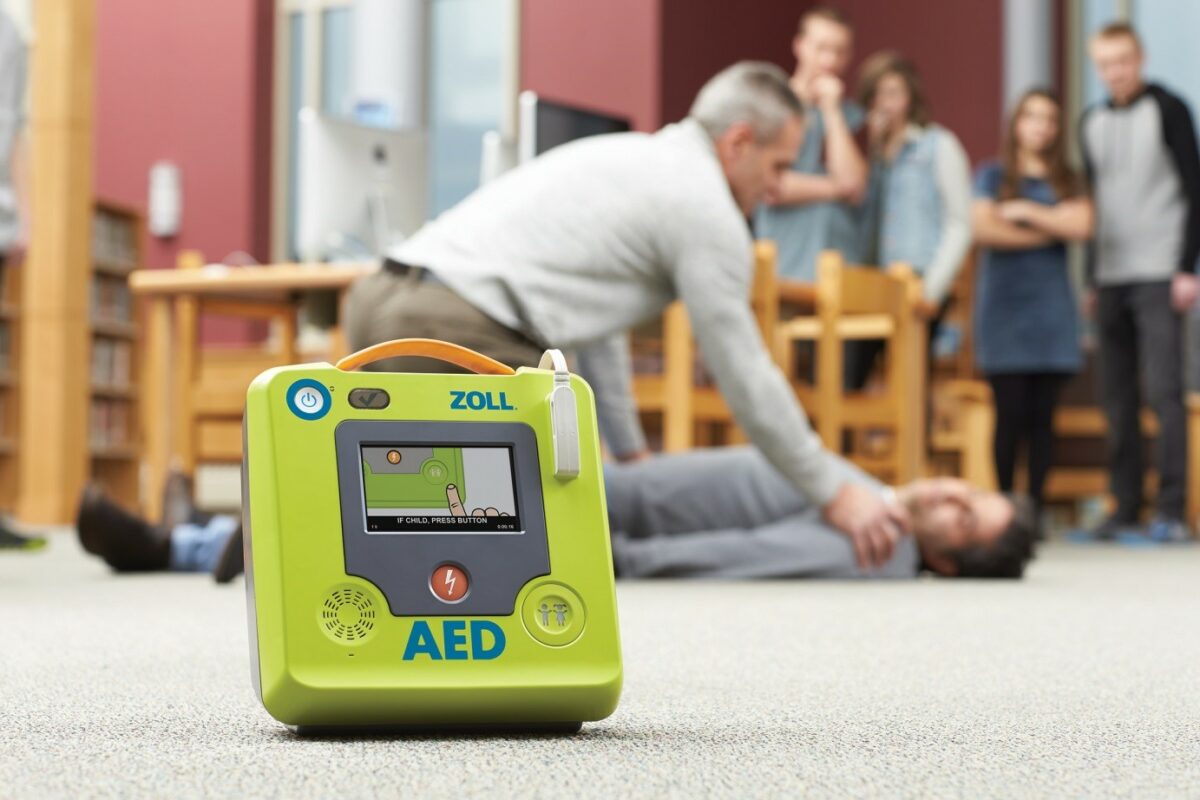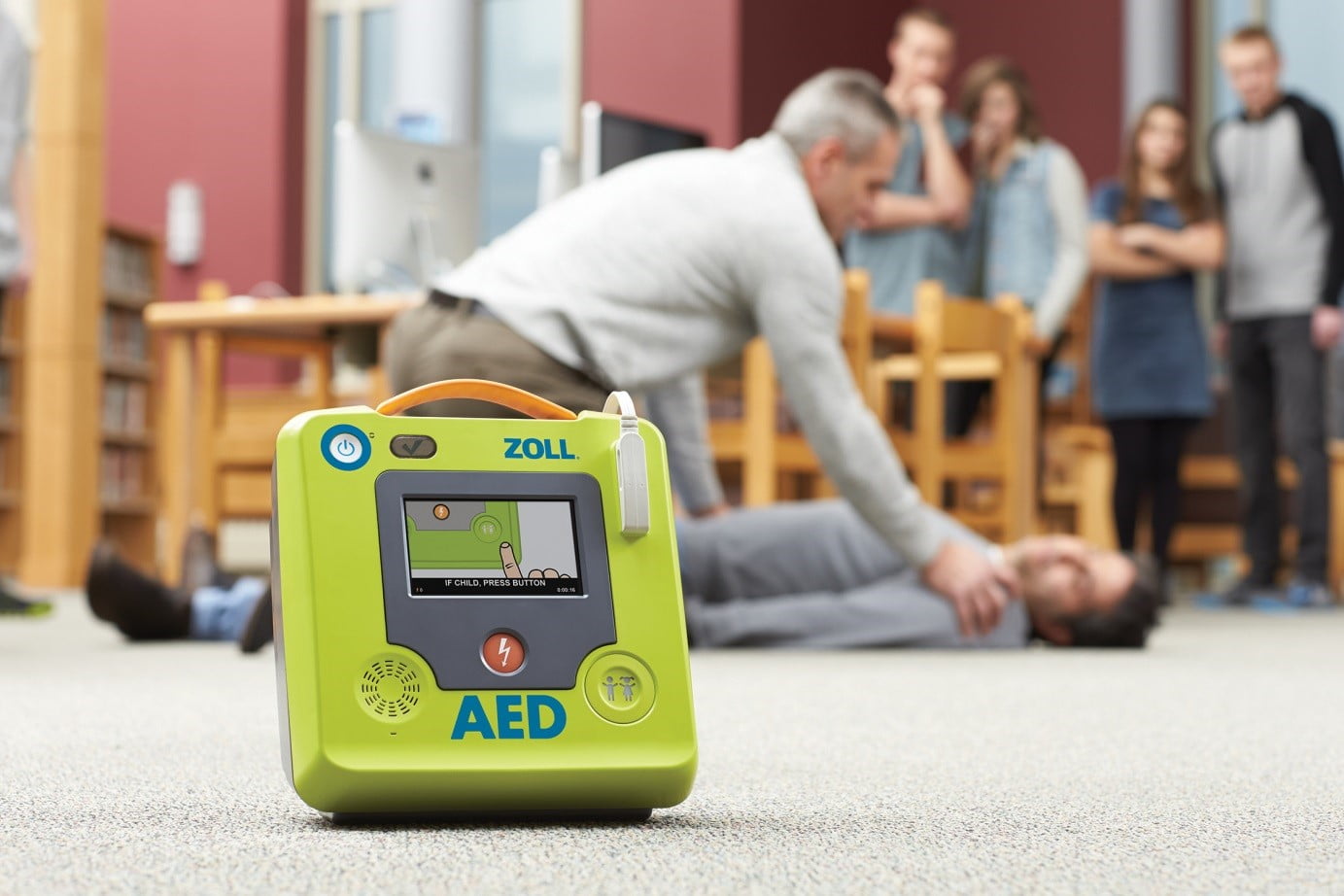 More Detailed Primary Features and Benefits of the Zoll AED 3
Zoll AED 3 gives hope in one's hand:
Zoll AED 3 makes the one to always remain ready to help in a heartbeat. Zoll AED 3 defibrillator makes everyone capable of saving lives during Sudden Cardiac Arrest by providing instantly CPR and increasing the survival chances of the sufferer. After 12 minutes of SCA (sudden cardiac arrest), the chances of survival are hardly 2 percent according to the American head association.
The touchscreen display of the Zoll AED 3 creates a difference:
Zoll AEDs' touchscreen makes the defibrillator easily accessible to AED display info and makes its configuration simple and ends the need for additional external instrumental devices or software.
Wi-Fi connectivity activates the self-regulated status:
Wi-Fi connection is a substantive step that ends the onsite presence of medical officials or their necessity to reach quickly the place of incident to examine the data. Rescuer can effortlessly send the data to medical professionals and makes it quickly accessible. This feature through self-regulated self-tests ensures the readiness that boosts the confidence of the rescuer as the AED is always ready in situations of sudden Cardiac Arrest.
Not only Innovative and enhanced Zoll AED 3 but also durable and reliable:
The ZOLL AED 3 is built to withstand harsh conditions, making it ideal for use in various settings, including outdoor environments like temperatures and altitude, vibration, and shock. An ingress protection rating of IP55 for dust and water because of the rugged design features.
Smart and long-life batteries cost less than half:
Batteries last more than 5 years when once installed. The cost of the batteries is less than half of the competitive device's batteries.
Videos – ZOLL AED 3 Configuration