AED Defibrillator For Church Package Includes:
First Response Kit:
Kit Includes items typically needed in a cardiac arrest event. The nylon, zippered pouch contains (1) pair of nitrile gloves, a pocket CPR mask, scissors, razor, and (2) towelettes.This is used while using the AED and is a necessary component to complete the AED revival process.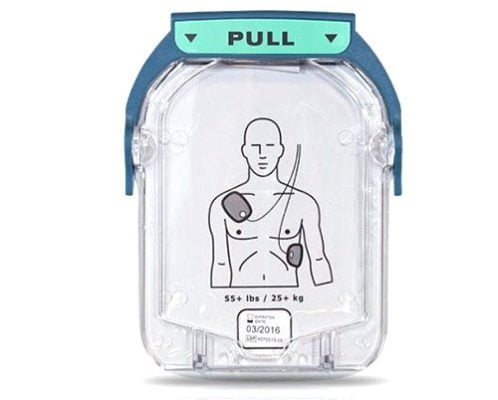 Adult Electrode Pads:
The Philips HeartStart OnSite Adult SMART pads come in a cartridge that attach to the HeartStart OnSite AED. The cartridge can be easily snapped into the AED when replacing the pads. The Pull-handle allows the rescuer to quickly and easily tear open the pads by just pulling down on marked cartridge handle.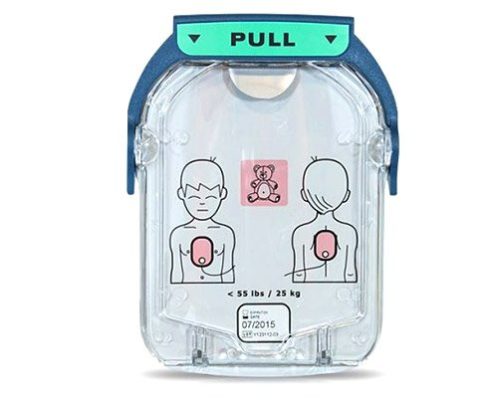 Child Electrode Pad:
The Philips HeartStart Infant/Child SMART Pads are for use on children 8-years-old and younger or with a weight less than 55lbs (including infants). When the pads are connected to the HeartStart OnSite, the voice commands appropriately change for a pediatric rescue. Connecting the infant/child SMART pads to the HeartStart OnSite AED also reduces the joule count from 150 Joules to 50 Joules. Philips Healthcare recommends you have a spare infant/child SMART Pad cartridge stored with your HeartStart OnSite AED.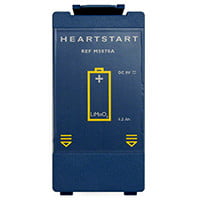 Lithium Battery
The low maintenance Philips HeartStart OnSite battery has a 5 year shelf life (outside of the AED) and 4 Year Guarantee (stand by mode inside the AED) from Philips Healthcare. This battery was specifically designed for the the Philips HeartStart OnSite, as well as the Philips HeartStart FRx AEDs. Philips recommends to always have a fully charged spare battery stored with the AED.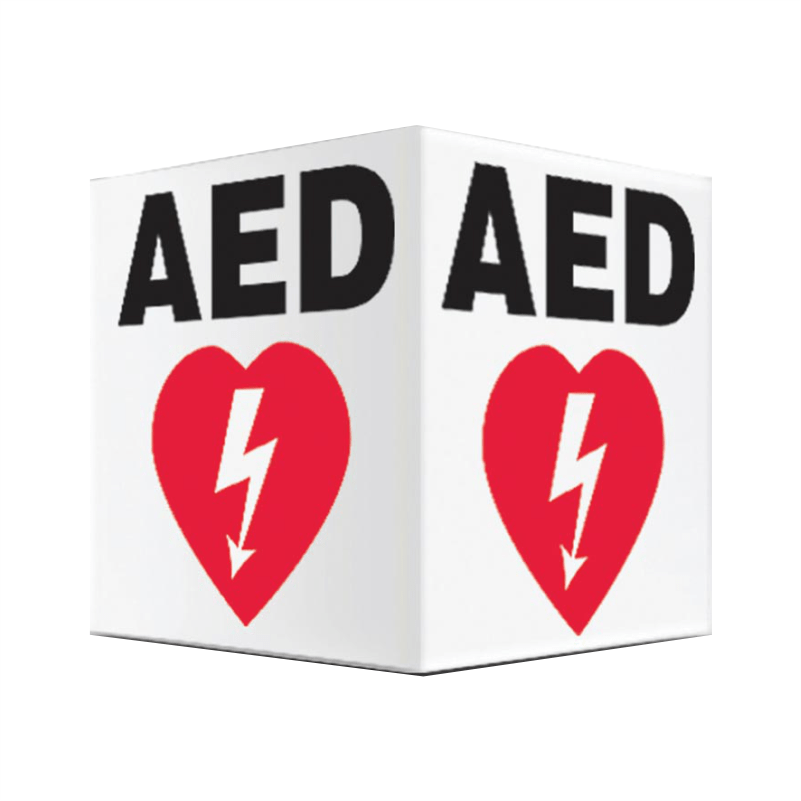 3D Sign:
Transforming wall sign that can be used in three different configurations (flat, corner, triangular). Each panel measures 6 1/8″ wide by 9″ high. Total measurements at 14 7/8″ wide by 9″ high.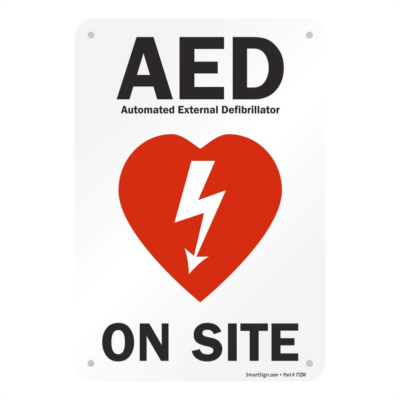 AED "Equipped Facility" Decal Sticker:
Put the sticker on the window of the cabinet for visible awareness of the AED. decal sticker provides information about the location of the AED, how to use it, and other important details. It is useful in emergency situations where quick access to an AED can save a life.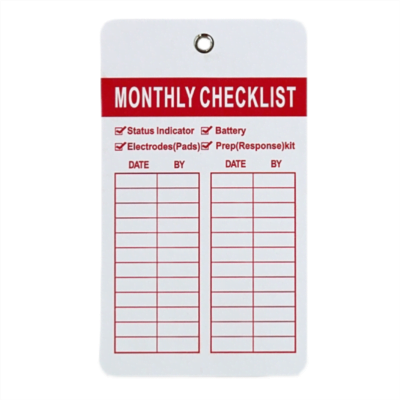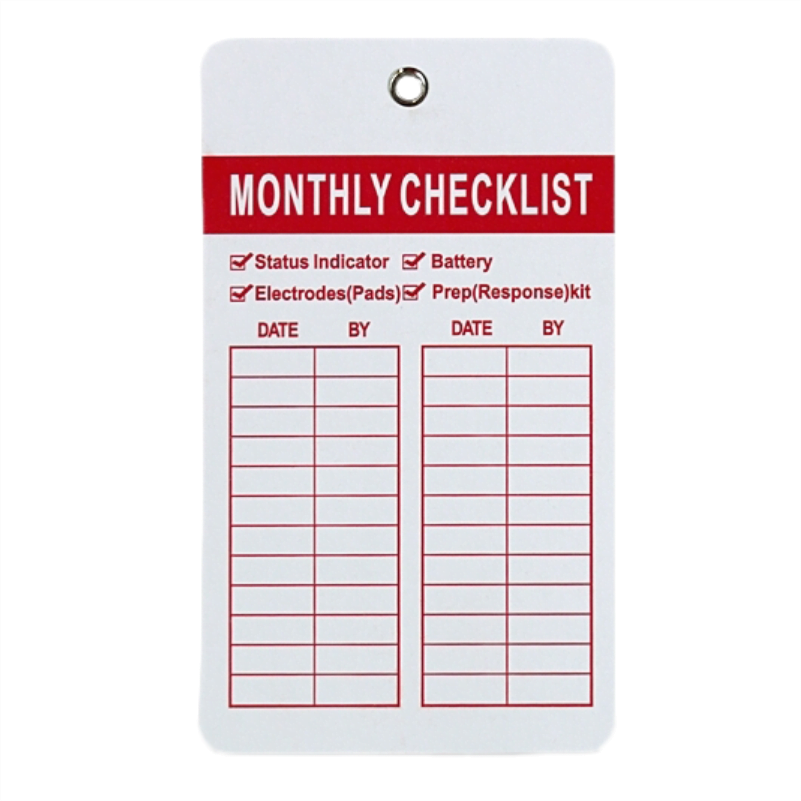 CalMed Inspection tag:
AED Inspection Documentation Tag. Make sure the AED is giving a green signal and this way you are in compliance of checking the AED.Check to ensure the battery and pads are up to date.
Free shipping:
calmedequipment.com offers free UPS Ground shipping to the contiguous United States on all in-stock orders $99 and over.
Alarmed Cabinet:
Basic large defibrillator wall cabinet with window and alarm; measures 16″L x 14 5/8″H x 8 3/8″W.
.
AED for Church and Faith-Based Organizations:
An Automated External Defibrillator (AED) is necessary for churches, as well as other public places, because it can significantly increase the chances of survival for someone experiencing sudden cardiac arrest. Sudden cardiac arrest occurs when the heart suddenly stops beating effectively, leading to a lack of blood flow to the brain and other vital organs. It's a life-threatening emergency that requires immediate intervention.
Religious places with high physical demands or high-stress levels can make someone even more susceptible to sudden cardiac arrest. California Medical equipment will ensure that your business has the resources it needs to implement a compliant and effective response program.
AED in churches is a proactive step to ensure the safety and well-being of the people who attend services and events. Training members of the church community on how to use the AED and perform basic CPR can further enhance the readiness to respond to cardiac emergencies.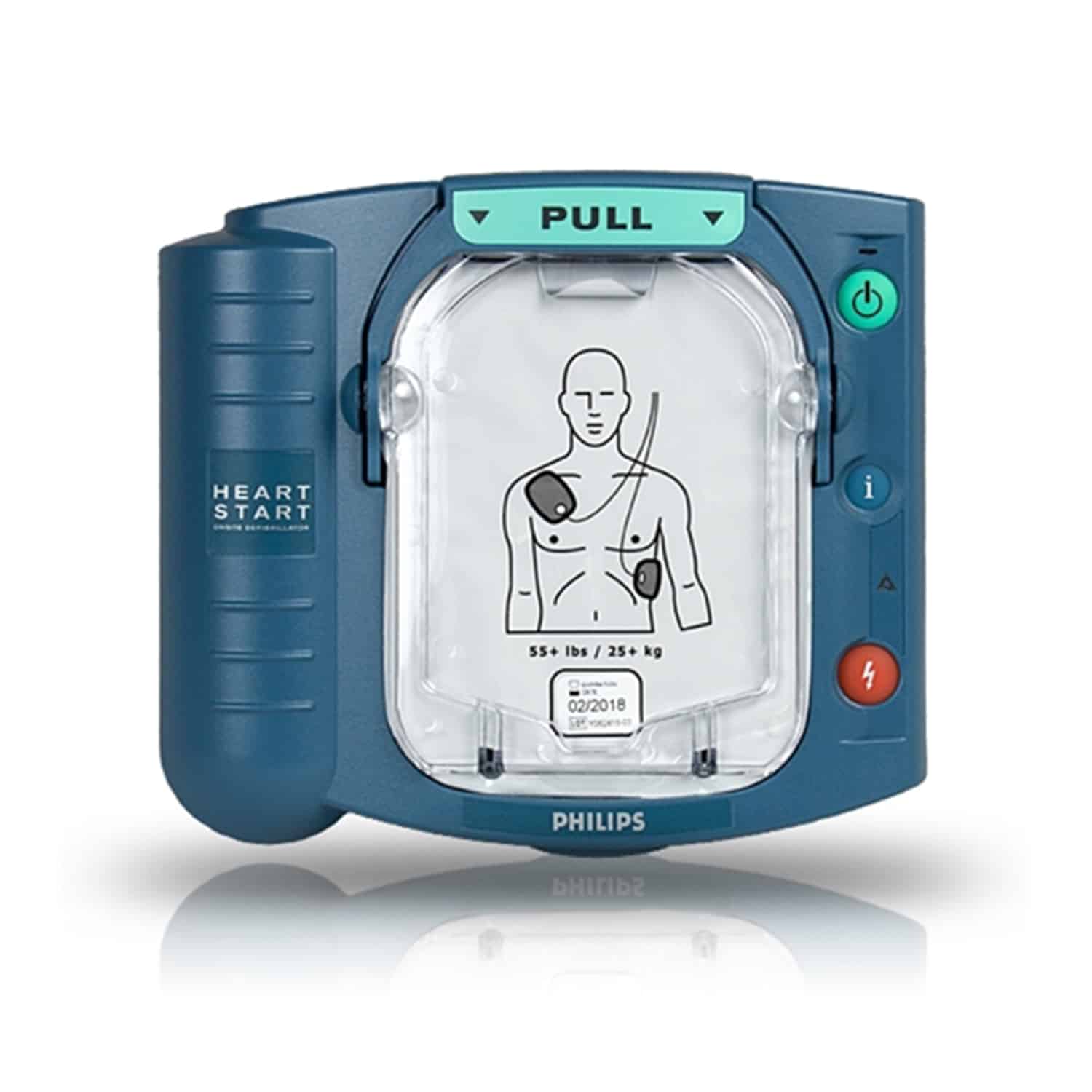 When considering an AED (Automated External Defibrillator) for a church, there are several factors to take into account to ensure you choose the right device for your specific needs. Here's a step-by-step guide to help you select an appropriate AED for your church:
Assess Needs and Budget: Start by evaluating your church's specific requirements. Consider factors such as the size of the congregation, the number of events held, and the location of the church. Determine a budget range for the AED purchase and any additional costs such as training, maintenance, and replacement parts.
Research AED Models: Research different AED models available on the market. Look for AEDs that are user-friendly, have clear audio and visual prompts, and are suitable for people without medical training. Consider well-known and reputable brands, as they often provide reliable devices.
Ease of Use: Choose an AED with simple and intuitive operation. The device should provide clear step-by-step instructions for proper usage, including electrode pad placement and initiating a shock.
Training Resources: Some AED models come with training materials, videos, or online resources to help users become familiar with the device. Check if the AED you're considering offers training options or if you'll need to arrange for separate training.
SMART Technology: Look for AEDs with SMART technology or similar features that analyze the victim's heart rhythm and advise whether a shock is needed. This technology helps prevent unnecessary shocks and provides guidance to users.
Durability and Portability: Choose an AED that is durable and can withstand various environmental conditions. If your church holds events in different areas or outside, consider a lightweight and portable model that can be easily moved.
Battery Life and Maintenance: Consider the battery life of the AED and how often it needs to be replaced. Some AEDs have long-lasting batteries that can be helpful in minimizing maintenance requirements.
Warranty and Support: Check the warranty provided with the AED and the availability of customer support. Having reliable customer service can be crucial if you encounter any issues with the device.
Regulations and Legal Considerations: Familiarize yourself with any local regulations, requirements, or recommendations for AED placement, maintenance, and training. Some areas may have specific guidelines that you need to follow.
Training and Maintenance Plan: Develop a plan for training key personnel and members of your congregation on how to use the AED and perform CPR. Also, establish a maintenance schedule to regularly check the device's functionality, replace batteries and pads, and keep it in optimal condition.
AED Placement: Choose strategic locations within the church where the AED can be easily accessed. High-traffic areas, event spaces, and places where congregants gather should be considered for AED placement.
Emergency Response Plan: Integrate the AED into your church's broader emergency response plan. Ensure that designated individuals know how to respond in case of a sudden cardiac arrest and are familiar with the location of the AED.
By carefully considering these factors and conducting thorough research, you can choose an AED that best suits the needs of your church community and helps ensure the safety and well-being of your congregants and visitors.
Other AEDs Packages for Churches
Why Philips Onsite AED Best For Church?
HeartStart OnSite AED, a popular automated external defibrillator (AED) model. It's important to note that specific product recommendations can change over time based on advancements in technology, updates to product offerings, and new research. However, as of my last update, here are some reasons why the Philips HeartStart OnSite AED might be considered a good option for churches:
Ease of Use: The Philips HeartStart OnSite AED is known for its simplicity and user-friendly design. It provides clear audio and visual instructions to guide users through the steps of defibrillation and CPR, making it suitable for individuals without prior medical training.
Quick Shock Delivery: This AED is designed to deliver a shock quickly if it detects a shockable rhythm, which is crucial in emergency situations. Time is of the essence when dealing with sudden cardiac arrest, and a fast shock delivery can increase the chances of a successful outcome.
SMART Analysis: The HeartStart OnSite AED uses SMART Analysis technology to assess the victim's heart rhythm and determine whether defibrillation is needed. This technology helps ensure that shocks are only delivered when necessary, reducing the risk of inappropriate shocks.
Long Battery Life and Shelf Life: The device comes with a long-life battery that can provide numerous shocks or hours of monitoring. Additionally, the AED's components typically have a relatively long shelf life, making it a reliable option for locations like churches where the AED may not be used frequently.
Durable and Portable: The Philips HeartStart OnSite AED is designed to be durable and withstand various environmental conditions. It's also lightweight and portable, making it easy to carry to different locations within the church premises if needed.
Training Options: Philips usually provides training resources and materials along with their AEDs, which can be helpful for churches to train their staff and congregation members on how to use the device effectively.
Trusted Brand: Philips is a well-known and respected brand in the medical device industry, known for its quality and reliability. This can provide churches with confidence in the product's performance during critical moments.
It's important to conduct thorough research and possibly consult with medical professionals or AED specialists to determine which AED model is the best fit for your church's specific needs. Additionally, regulations and recommendations related to AEDs may vary by location, so it's a good idea to be informed about any local requirements for AED placement, maintenance, and training.
AEDs Accessories & Products
Video – Philips Heartstart Onsite AED Defibrillator Configuration