Philips Onsite AED For Police and Rescue Includes:
First Response Kit:
Kit Includes items typically needed in a cardiac arrest event. The nylon, zippered pouch contains (1) pair of nitrile gloves, a pocket CPR mask, scissors, razor, and (2) towelettes.This is used while using the AED and is a necessary component to complete the AED revival process.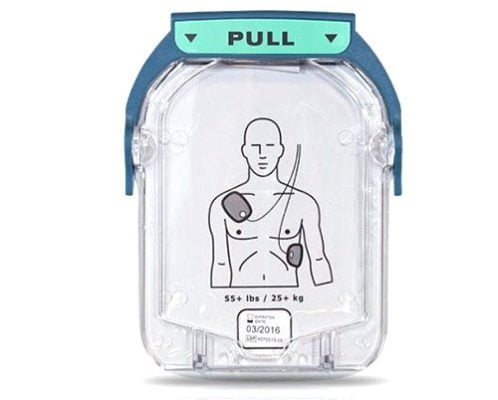 Adult Electrode Pads:
The Philips HeartStart OnSite Adult SMART pads come in a cartridge that attach to the HeartStart OnSite AED. The cartridge can be easily snapped into the AED when replacing the pads. The Pull-handle allows the rescuer to quickly and easily tear open the pads by just pulling down on marked cartridge handle.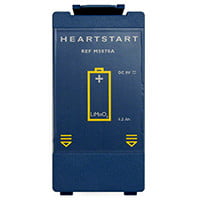 Lithium Battery:
The low maintenance Philips HeartStart OnSite battery has a 5 year shelf life (outside of the AED) and 4 Year Guarantee (stand by mode inside the AED) from Philips Healthcare. This battery was specifically designed for the the Philips HeartStart OnSite, as well as the Philips HeartStart FRx AEDs. Philips recommends to always have a fully charged spare battery stored with the AED.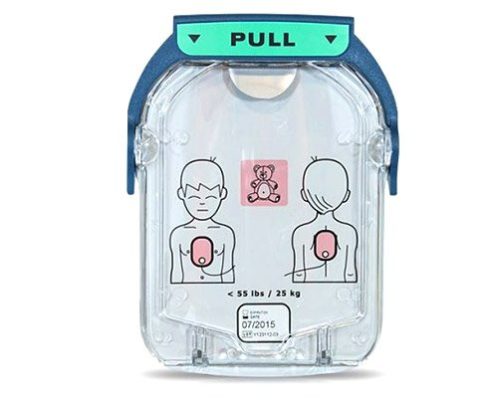 Pediatric Electrode Pads:
The Philips HeartStart Infant/Child SMART Pads are for use on children 8-years-old and younger or with a weight less than 55lbs (including infants). When the pads are connected to the HeartStart OnSite, the voice commands appropriately change for a pediatric rescue. Connecting the infant/child SMART pads to the HeartStart OnSite AED also reduces the joule count from 150 Joules to 50 Joules. Philips Healthcare recommends you have a spare infant/child SMART Pad cartridge stored with your HeartStart OnSite AED.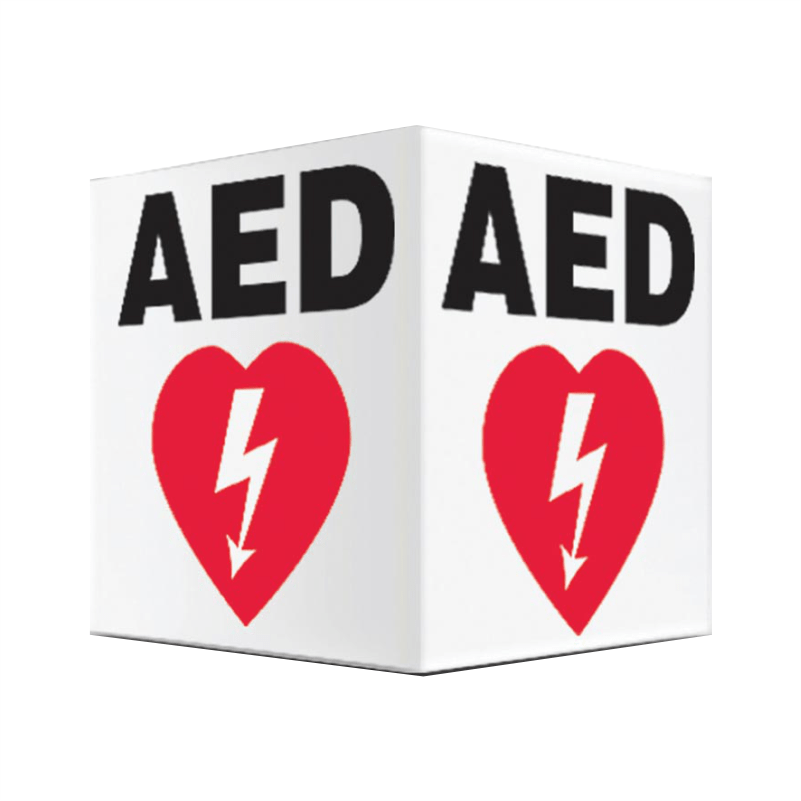 3D Sign:
Transforming wall sign that can be used in three different configurations (flat, corner, triangular). Each panel measures 6 1/8″ wide by 9″ high. Total measurements at 14 7/8″ wide by 9″ high.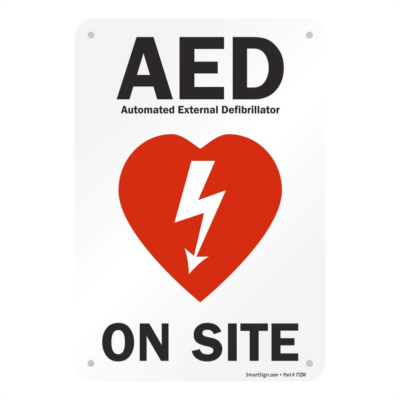 AED "Equipped Facility" Decal Sticker:
Put the sticker on the window of the cabinet for visible awareness of the AED. decal sticker provides information about the location of the AED, how to use it, and other important details. It is useful in emergency situations where quick access to an AED can save a life.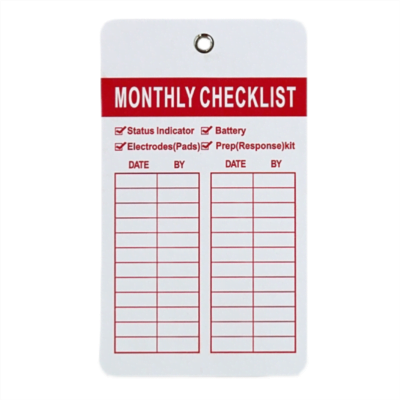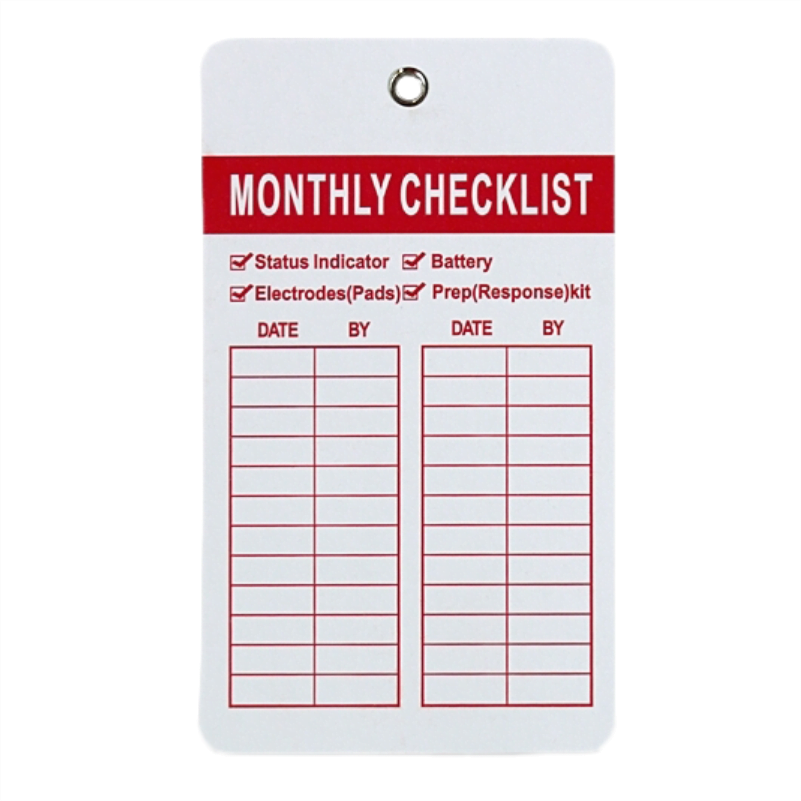 CalMed Inspection tag:
AED Inspection Documentation Tag. Make sure the AED is giving a green signal and this way you are in compliance of checking the AED. Check to ensure the battery and pads are up to date.
Free shipping:
calmedequipment.com offers free UPS Ground shipping to the contiguous United States on all in-stock orders $99 and over.
Philips Onsite AED for Police & Rescue:
An Automated External Defibrillator (AED) is necessary for Police & Rescue, as well as other public places, because it can significantly increase the chances of survival for someone experiencing sudden cardiac arrest. Sudden cardiac arrest occurs when the heart suddenly stops beating effectively, leading to a lack of blood flow to the brain and other vital organs. It's a life-threatening emergency that requires immediate intervention.
When it comes to public safety, every moment can mean the difference between life and death. Every year, sudden cardiac arrest claims the lives of 450,000 Americans. One person dies every two minutes due to these silent attacks. Yet, in this urgency, AEDs lie as a beacon of hope. These AEDs play a vital role in the hands of our heroes—police and rescue teams. It is a life-saving revolution.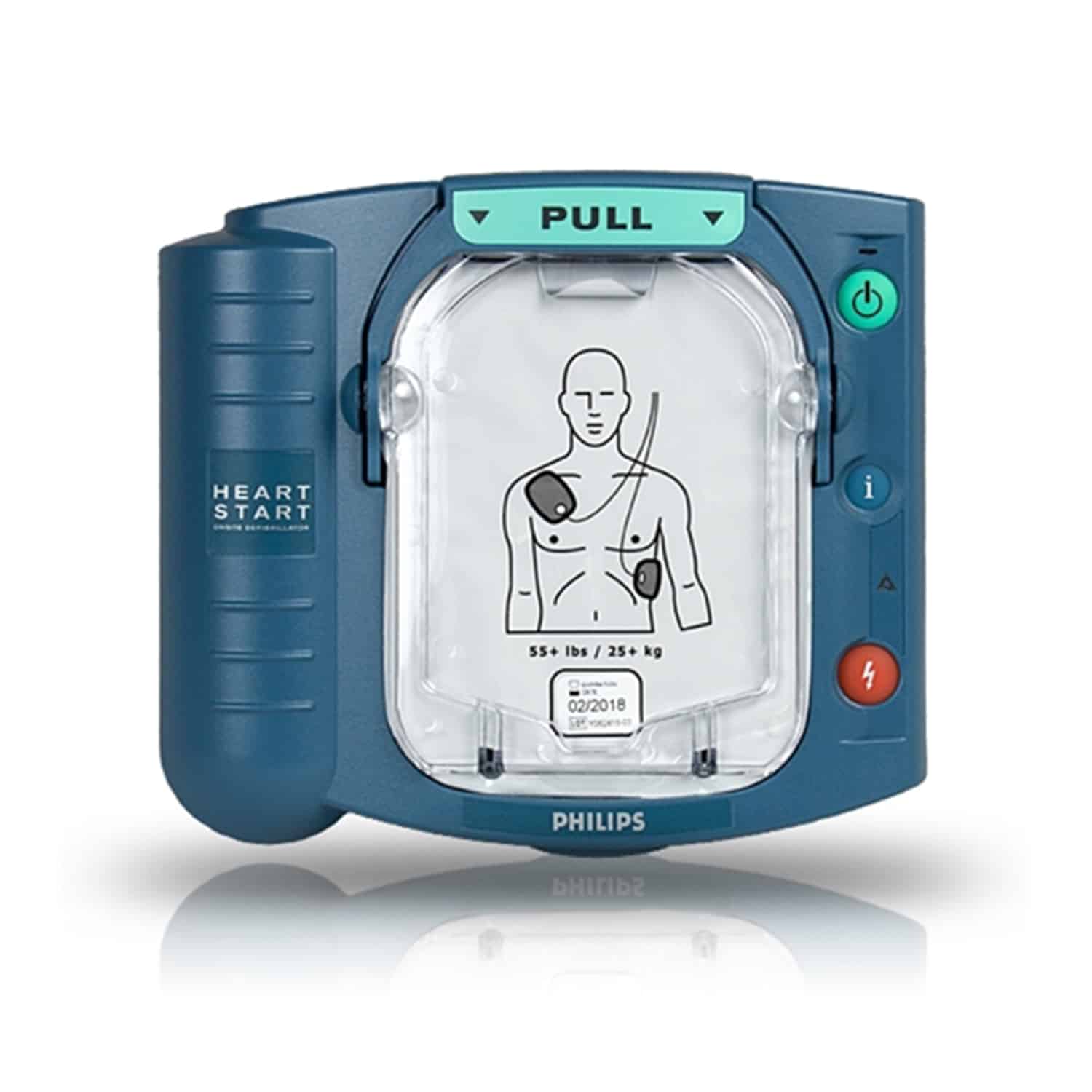 Benefits of AEDs for Police and Rescue Services:
Life-Saving Technology:
The AED is a portable device. It is designed to give an electric shock to the heart in sudden cardiac arrest. This critical technology can differentiate between a victim's survival and irreversible damage. Police and rescue personnel are often the first on the scene. Having access to an AED can increase the chances of providing life-saving interventions. Immediate access to an AED can make a critical difference in saving a person's life.
Rapid Response, Increased Survival Rates:
Time is of the essence in emergencies. AEDs are user-friendly, allowing even non-medical personnel to deliver crucial care swiftly. Immediate help from police and rescue teams is crucial. This is especially true before paramedics arrive. Early defibrillation is crucial for survival. AEDs equip first responders to save lives.
Versatility in Emergency Situations:
Police and rescue personnel often encounter a myriad of emergencies beyond cardiac arrest. AEDs are versatile tools and can be used in response to various medical emergencies. It includes certain types of traumatic injuries. Our frontline responders are better prepared and more effective due to their adaptability. This enables them to address a wide range of incidents with ease.
Community Engagement and Awareness:
Launching a campaign to promote AEDs for police and rescue personnel is essential. It goes beyond equipment distribution. It fosters community awareness and engagement. Educating the public about the significance of AEDs and how to use them boosts community resilience. Additionally, it promotes responsible AED placement in public areas.
Partnerships and Funding Opportunities:
Collaboration with local businesses, organizations, and government agencies is crucial. This collaboration helps in implementing AEDs for police and rescue personnel. Forming partnerships for AED placement, training programs, and funding opportunities is crucial. These partnerships can ensure widespread access to this life-saving technology. By working together, we can build a network of support that empowers our heroes on the frontlines.
AEDs Accessories & Products
Videos – Philips Heartstart Onsite Configuration