AED Defibrillator For Gym Package Includes:
First Response Kit:
Kit Includes items typically needed in a cardiac arrest event. The nylon, zippered pouch contains (1) pair of nitrile gloves, a pocket CPR mask, scissors, razor, and (2) towelettes.This is used while using the AED and is a necessary component to complete the AED revival process.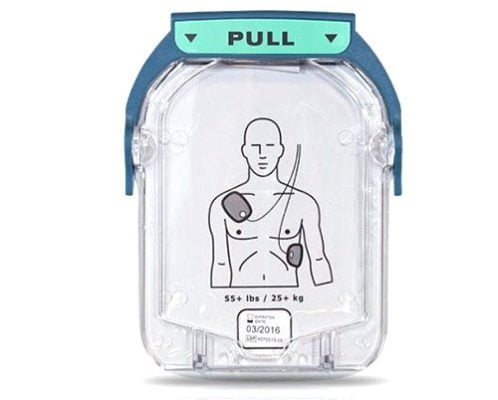 Adult Electrode Pads:
The Philips HeartStart OnSite Adult SMART pads come in a cartridge that attach to the HeartStart OnSite AED. The cartridge can be easily snapped into the AED when replacing the pads. The Pull-handle allows the rescuer to quickly and easily tear open the pads by just pulling down on marked cartridge handle.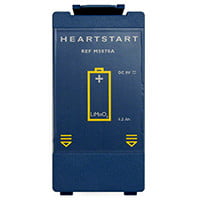 Lithium Battery
The low maintenance Philips HeartStart OnSite battery has a 5 year shelf life (outside of the AED) and 4 Year Guarantee (stand by mode inside the AED) from Philips Healthcare. This battery was specifically designed for the the Philips HeartStart OnSite, as well as the Philips HeartStart FRx AEDs. Philips recommends to always have a fully charged spare battery stored with the AED.
Alarmed Cabinet:
Basic large defibrillator wall cabinet with window and alarm; measures 16″L x 14 5/8″H x 8 3/8″W.
.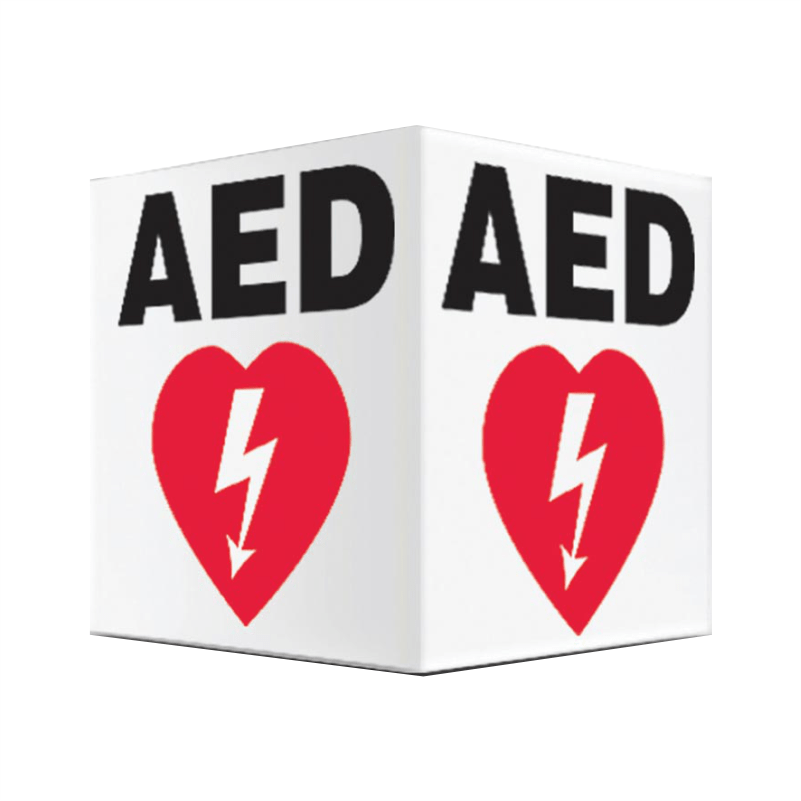 3D Sign:
Transforming wall sign that can be used in three different configurations (flat, corner, triangular). Each panel measures 6 1/8″ wide by 9″ high. Total measurements at 14 7/8″ wide by 9″ high.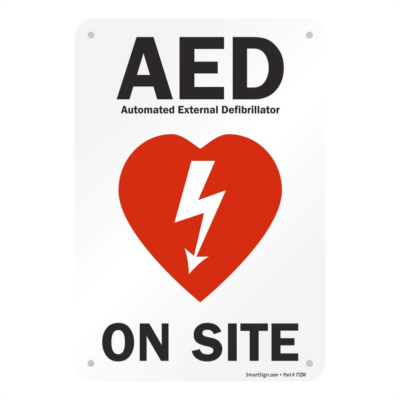 AED "Equipped Facility" Decal Sticker:
Put the sticker on the window of the cabinet for visible awareness of the AED. decal sticker provides information about the location of the AED, how to use it, and other important details. It is useful in emergency situations where quick access to an AED can save a life.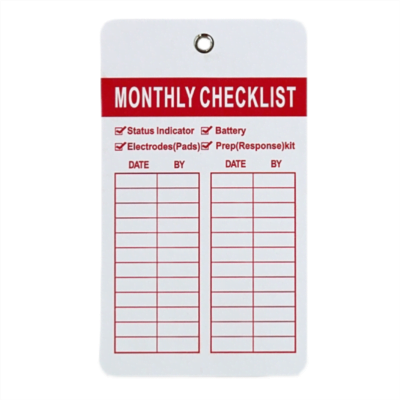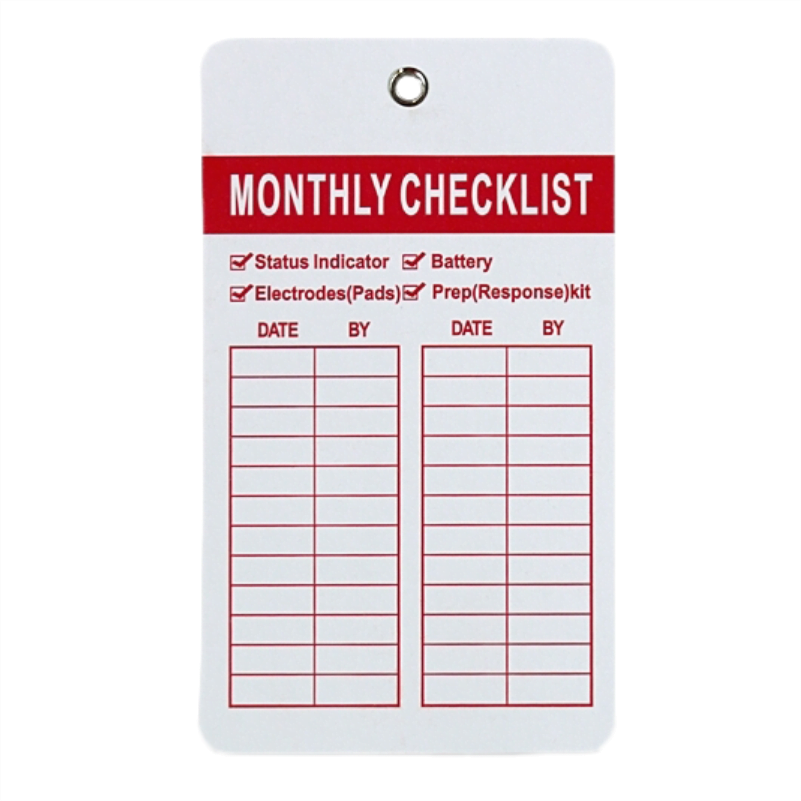 CalMed Inspection tag:
AED Inspection Documentation Tag. Make sure the AED is giving a green signal and this way you are in compliance of checking the AED.Check to ensure the battery and pads are up to date.
Free shipping:
calmedequipment.com offers free UPS Ground shipping to the contiguous United States on all in-stock orders $99 and over.
AEDs for Gym & Fitness Center:
An Automated External Defibrillator (AED) is crucial for gyms, fitness centers, and swimming pools due to the potential risks of sudden cardiac arrest (SCA) in these environments. Sudden cardiac arrest is a life-threatening condition where the heart suddenly stops beating effectively, leading to a lack of blood flow to vital organs, including the brain. Having an AED on hand can make a significant difference in saving lives
It's essential to ensure that staff members are trained in AED usage and cardiopulmonary resuscitation (CPR), and that the AED is well-maintained and regularly checked for functionality. Overall, integrating AEDs into the safety measures of gyms, fitness centers, and swimming pools can save lives and contribute to the overall well-being of everyone in these environments.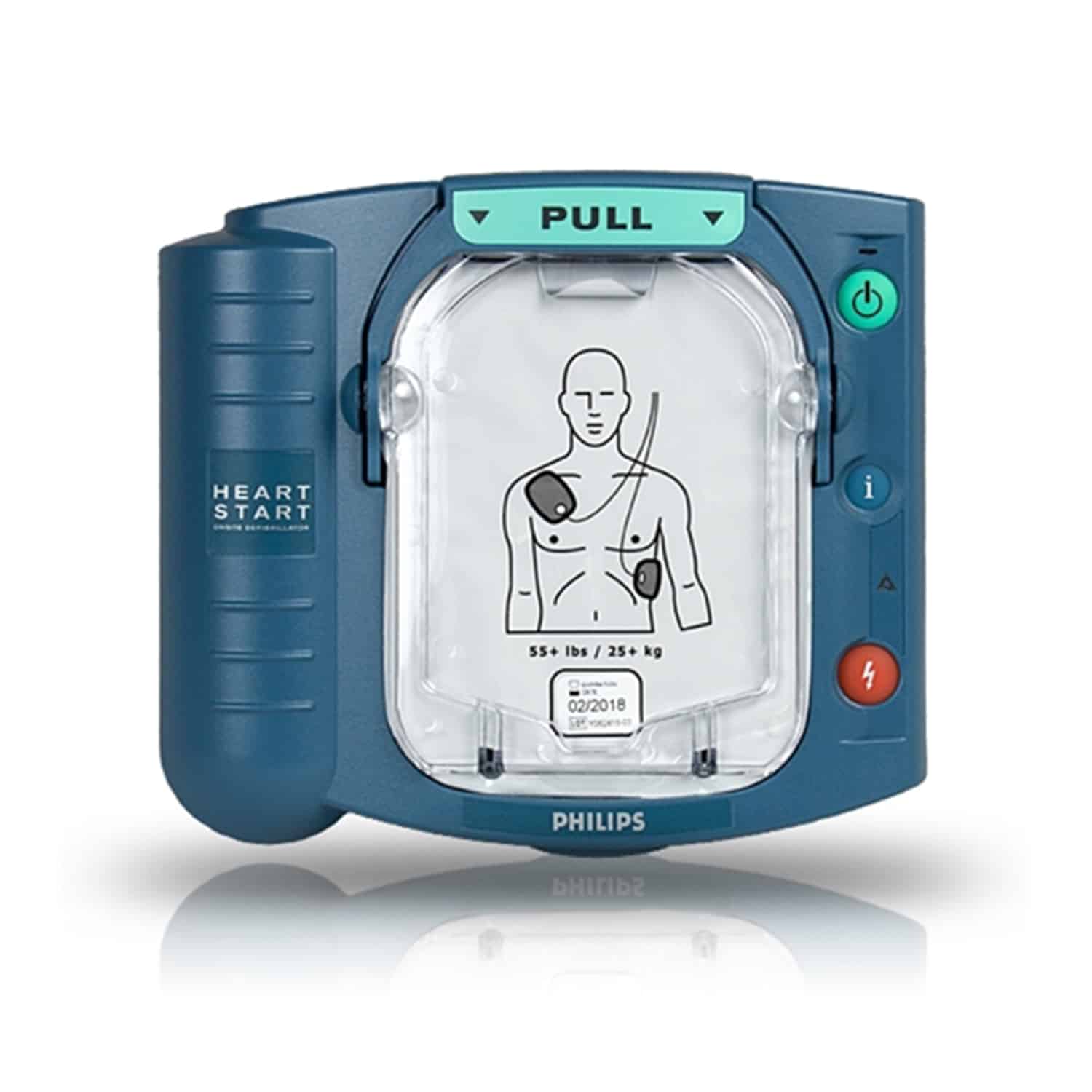 Does Your Company Have an AED Program in Place? AEDs in the Workplace Save Lives
Here are some of the reasons companies should invest in Automated External Defibrillators in the workplace:
Defibrillation within 3 minutes of sudden cardiac arrest increases chances of survival by 70%.

Defibrillation within 1 minute of collapse increases the chances of survival by 90%.

The delay in treatment caused by waiting for emergency responders (approximately 9 minutes) could result in death. 95% of people who experience sudden cardiac arrest die as a result, mainly because of delay in treatment.

OSHA recommends having AEDs in the workplace.

Many insurance companies now offer rate reductions on liability insurance if AEDs are provided in the workplace.

Workers can be easily trained to: recognize sudden cardiac arrest and notify EMS professionals, perform CPR, provide early defibrillation with an Automated External Defibrillators, and care for the victim until EMS personnel arrive.
Other AED Defibrillator Packages
Why AED Defibrillator Necessary for Gym & Swimming pools?
An AED (Automated External Defibrillator) is necessary for gyms and swimming pools due to the potential risk of sudden cardiac arrest (SCA) occurring in these settings. Sudden cardiac arrest is a life-threatening emergency in which the heart suddenly stops beating effectively, leading to a lack of blood flow to vital organs including the brain. Having an AED on hand can significantly increase the chances of survival in case of such an event. Here's why AEDs are essential in gym and swimming pool environments:
Physical Exertion: Gyms are places where people engage in physical exercise, which can sometimes put stress on the cardiovascular system. While exercise is generally beneficial, there's a small risk that it can trigger cardiac events in individuals with underlying heart conditions. Having an AED available ensures that quick intervention is possible if someone experiences sudden cardiac arrest during or after a workout.
Potential for Cardiac Events: While swimming is a low-impact exercise, the environment of a swimming pool can also pose risks. Water-related incidents, such as drowning or underwater accidents, can lead to cardiac events due to oxygen deprivation and stress on the heart. An AED at a swimming pool can be critical in providing timely assistance if such an incident occurs.
Delayed Medical Help: Gyms and swimming pools might not always be located near medical facilities or emergency services. In the event of sudden cardiac arrest, every minute counts, and having an AED on-site can bridge the gap until professional medical help arrives.
Immediate Response: AEDs are designed to be used by non-medical professionals. They provide clear, step-by-step audio and visual instructions on how to use the device effectively. This means that even gym staff or bystanders without medical training can initiate life-saving measures before paramedics arrive.
High Risk Population: Gyms and swimming pools attract people from a wide range of age groups and fitness levels. There may be individuals with undiagnosed heart conditions who are not aware of their risk factors. Having an AED available can protect all members of the community, from young athletes to older adults.
Rapid Defibrillation: Defibrillation, the delivery of an electric shock to the heart, is crucial in restoring a normal heart rhythm during sudden cardiac arrest. The sooner defibrillation is performed, the better the chances of survival. AEDs enable rapid defibrillation, increasing the likelihood of a positive outcome.
Legal and Ethical Considerations: Providing a safe environment is an ethical responsibility for businesses like gyms, swimming pools & fitness centers. Having an AED on-site demonstrates a commitment to the well-being of patrons and staff.
Incorporating AEDs into gym and swimming pool safety measures can save lives. However, it's important not only to have AEDs available but also to ensure that staff members are trained in their use and that there is a clear emergency response plan in place. Training staff on AED usage and cardiopulmonary resuscitation (CPR) can further enhance the ability to respond effectively to cardiac emergencies.
AEDs Accessories & Products
Video – Philips Heartstart Onsite AED Defibrillator Configuration